"When we change ourselves, those around us change. And, in turn, the whole world will change. We are a positive epidemic."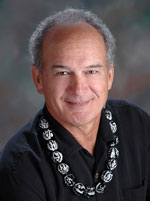 Dr. Maka'ala Yates, D.C., is a Kanaka Maoli (Hawaiian Ancestry) who specializes in Hawaiian medicine. He has been practicing and teaching Hawaiian healing concepts for over 25 years and is the co-founder of Indigenous Botanicals and Mana Lomi®.

Maka`ala's Book, Na'auao Ola Hawaii: Hawaiian Principles and Practices of Being Well is available on Amazon.